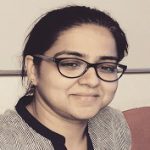 Ms. Kirti Gulati is Vice President, responsable for Business Advisory and Representative for India & Asia of K3M.

Ms. Gulati has over 10 years of experience in various roles including research, analysis, relationship management, CRM and Business Development.
For K3M, she leads the representative office in India for the Asia region.
For AFII, she leads the research and analysis team for assignments in the Industry and corporate finance space. Under the industry segment, AFII advises manufacturing and service companies in restructuring around their growth story helping them reorganize themselves to progress under the renewed development framework. Under the corporate finance segment, AFII assists businesses in raising equity and opportune debt for their expansion, optimization or redevelopment programs.
Under both segments, her team carries out detailed market, peer, industry analysis, SWOT, potential M&A reviews, study of EPIs.
Ms. Gulati specializes in potential lender/investor identification w.r.t. the Industry/Asset category and the proposed reorganization / expansion program being advised upon by the respective teams. She has also been involved in AFII's G2G Programs under PUP (Public-Public Partnership) programs involving Indo Israel and Indo Belgium Co-operation.